Configuration
2.3 Configuration
Version 2.3 requires configuration of the Infusionsoft SDK. To set your App Id and API key see
Installed Plugins > Infusionsoft SDK > Settings
Finding Your API Key
Classic Experience interface
Keap Experience interface
Set your API key passphrase on the API section of your profile settings page.
2.4 Configuration
Version 2.4 incorporates the Infusionsoft SDK in a way that captures updates made by Novak Software, aka upstream. Earlier versions
of this feed add-on incorporated an offshoot of the Infusionsoft SDK implemented as a WordPress plugin. It's a waste of upstream's time to implement changes in the plugin branch because of changes to the PHP language version 8. It's an application strengthening procedure to convert this feed add-on to incorporate upstream's regularly maintained versions of the Infusionsoft SDK. This transition requires that you, the feed add-on installer, configure the feed add-on after an install or upgrade to version 2.4.
If you're installing for the first time, and there's no other user of the Infusionsoft SDK (i.e. it's not installed), configure your
App Id and API Key and you're done. If you're upgrading from 2.3, you'll have to decide whether or not to disable and uninstall the
Infusionsoft SDK plugin. There are two cases to consider with respect to the Infusionsoft SDK plugin: it might be used by another WordPress plugin, or it was installed in version 2.3
When the Infusionsoft SDK plugin …
… IS Active
This feed add-on will use the Infusionsoft SDK settings.
If the feed-on is the only user of the Infusionsoft SDK, consider deactivating and uninstalling the Infusionsoft SDK plugin for best site performance and to prepare your site for PHP 8.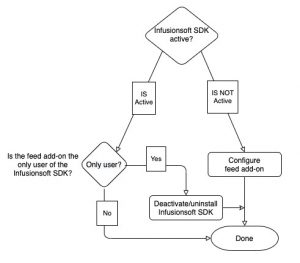 … IS NOT Active
After installation, set your Keap app name and API key.
To set your Keap app name and API key navigate to
Installed Plugins >
Keap Max Feed Add-On >
Settings
See above, Finding Your API Key
The feed add-on will display an offer to deactivate the Infusionsoft SDK on the plugin list page.
To disable the message see Installed Plugins > Keap Max Feed Add-On > Settings > Hide Deactivate Message